Void Reasons are are the best way to identify how staff are working with Voids during service.
They are also a good way of keeping track of wastage if you are not using the ImPOS Inventory Module.
The Void Reasons are best analysed in the Void Reason Report found in ImPOS Web Reports.
To enable Void Reasons press the 'Enable Void Reasons' Button at the bottom of the window.
Press 'New' to begin creating a new Void Reason.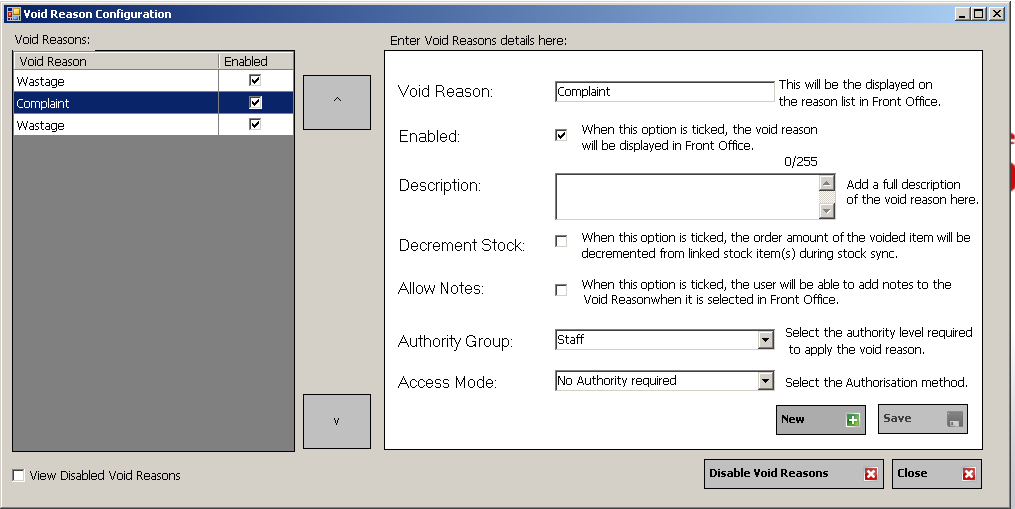 Fill in the following fields
Void Reason: This is the name of the reason that will be selected when assigning a Void in Front Office.
Enabled: This needs to be checked for the Void Reason to be displayed in Front Office.
Description: If needed this can be filled out to make notes on a particular set of Voids. In the event that there has been a significant  user error this can be usefull in terms of explanation to an accounting party or management.
Decrement Stock: This option links the item to ImPOS Inventory management. When checked it will decrement the amount of voided Items from the linked Stock Item. Best to leave this enchecked if the Void is for an erronious order that is not made.
Allow Notes: Checking this will force notes to be added to the Void Reason.
Authority Group: This selects the authority level required to apply the Void Reason. Select 'Staff' if your wish Staff Users and above to be able to use this Void Reason.
Access Mode: Select the type of Authorisation required to authorise the Void Reason. It's best to set this to 'Require Login even if Employee is Authorised'