Impos has a tiered authority setting, where you can set levels of authority from 0 to 100, in order to limit what functionality a staff member or manager has access to.
Each employee "Authority Group" has an Authority value associated with it, and each function also has an Authority value. If the employee is of level 10, and the Function is of Authority 20, they will not be able to use this function.
In order to set this up, Head to Back office. All of the following options are in the "Employee Setup" dropdown.
First is the Authority Group: This is where we assign a name to the Authority level, from 0-100, with 0 being the lowest, and 100 being the highest. The default in the Impos system is the list below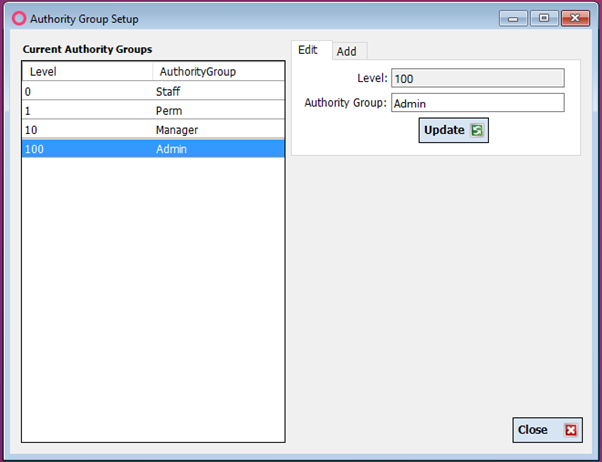 You can add additional Authority groups at any stage.
Second are the employees themselves, which is accessed via the Employee Management selection.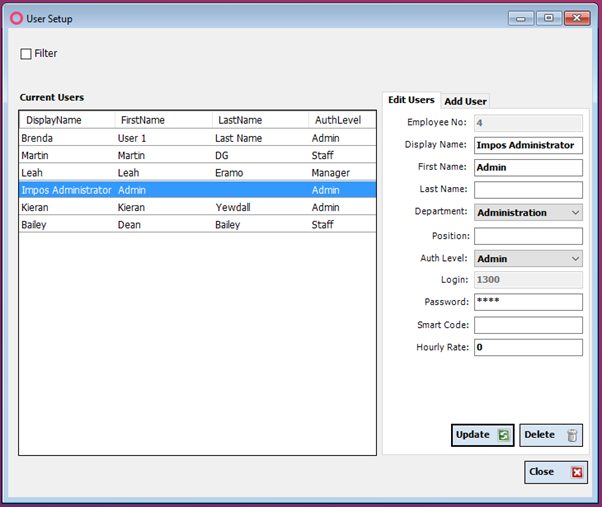 Use this screen to designate the Authority Level for each employee. This will determine what each unique log in is able to perform in Front and Back office.
To set a level of Authority for Discounts and Surcharges, see the relevant walk through for each of these functions.
To set the level of Authority for all other functions in Impos, use the "Function Settings" selection in the "Employee Setup" drop down.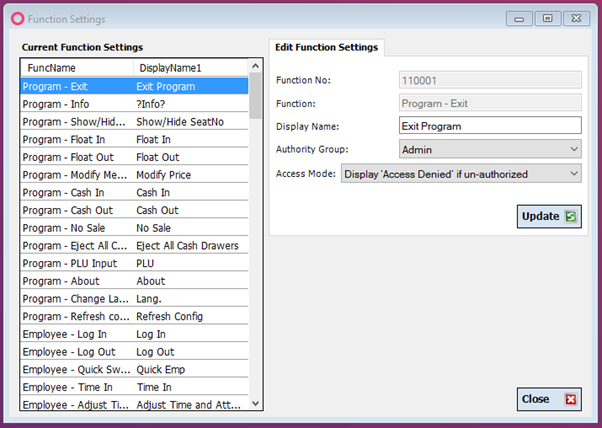 From this list on the left, you are able to select all the functions within Impos, and assign an "Authority Group" required to be able to apply the function, as well as the Access Mode:
The Access Mode determines whether the system prompts for User ID and Password even if the employee is authorized, or simply allows the transaction to occur.
Should you wish to Rename any function, you are able to alter the "Display Name" so the function better displays how your business operates.