The main window of the Impos terminal software is where orders can be processed and finalised. The window is accessed after user login. Depending of system settings the main window may appear directly after login in fast food mode, or after the table floor plan window.
The main window appears as below: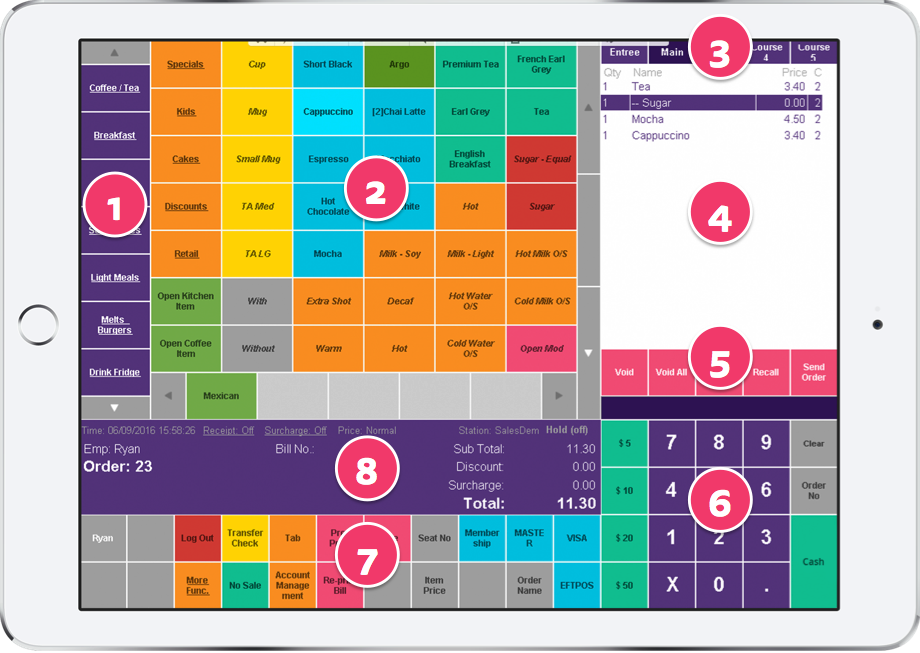 Once you login you'll be taken through to the Menu Screen. This is made up of a set of grids. Each of these has varying functions and information. Almost all of these grids are configurable. Almost every space can be configured although the buttons cannot be made any bigger.
Sub lists: These work like folders on a computer. They organise and store information as you tap on each of these they will reveal different buttons in the menu grid.

Menu Grid: This is the grid where users do most of their work. Here is where different menu information is stored. Tapping on any of these buttons will generally appear in the order grid.

Course Groupings: These are used to adjust the course settings on items within the order grid.

Order Grid: Any of the items or modifiers ordered in the menu grid will appear here. Any item that appears here can be adjusted and have different functions applied by highlighting. The system only allows one line in the order grid to be highlighted at a time. This is to avoid wholesale errors being made by selecting a range of items. The order grid also holds the 'Void' and 'Recall' buttons.

Order Process List: This contains features like 'void' and send order that relate directly to the information in the order grid.

Number Pad: The number pad contains the basic functionality of allowing you to apply numbers to many functions and assists ordering. It is flanked by quick pay buttons as well as configurable functions.

Function Grid: This holds the most used functions by the venue. This area is configurable and only holds a small amount of the total functions. Most of the further administrative functions are held in the 'More Functions' Sublist. Payment functions, bill printing, table info and membership admin are all examples of common features.

Info Screen: This contains important information pertaining to the order in the order grid. Info such as sub-total, time, the order, table or tab number and surcharge will all appear here as well as time and date info and Happy Hour pricing.