User Login
This is the key feature of Impos Authority based system.
There are three types of User Login Screen which could be configured as per your request:
User ID only (default)

Password only

User ID & Password
The User Login Screen could be configured into two different settings:
Login required for each transaction

Single Log In required per shift
The reason for a login is to designate an employee or "cashier" to each transaction performed on the POS terminal. This information is then tabulated later in various reports. In addition, the login process sets access levels to various functions of the POS software.
The login screen requires the user to enter in their ID number via the touch keypad.
Alternatively the user can access the system through use of a proximity band. These bands allow a swipe of the band near a receiver and automatically key in the user ID.
The User Login Screen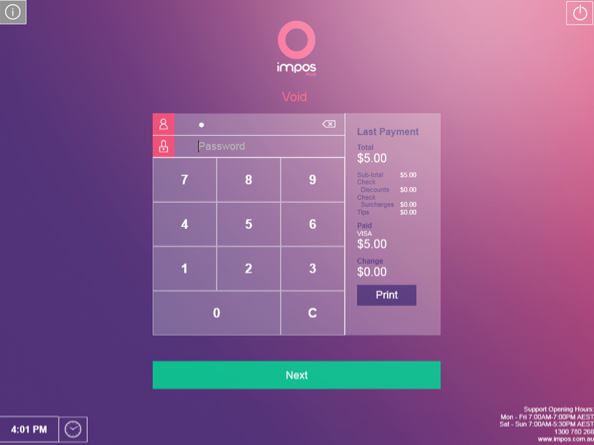 The User Login Screen comes up by default when you run the Impos Front Office software first time. There are two main functions of the User Login Screen:
Staff Time Management

User Login
This screen will also show you the version number of your Impos Front Office software. 
The default setting is to log the user out after each transaction. This is configurable. Just contact Impos Support to configure this setting.
Utilising Staff Time Management
The Staff Time Management can be accessed by tapping on the User Login Screen. The Sign In/Out window will appear allowing user to clock in or clock out.
There are two main functions in the Staff Time Management module:
Clock In and Clock Out

View and Edit Employee Sign Ins
Clock In and Clock Out
In order to clock in/out, the user will need to enter their respective User ID and Password to the fields accordingly. The system will automatically recognise whether the user needs to be clocked in or out.
The Sign In window will show the Last 5 Sign In/Out Record of the respective user.
The user then needs to click the button for clocking in.
Another User Login Screen will pop up asking for The Admin User's User ID and Password. This User Log In Window has to be filled out by the Admin level user for an authorisation and approval.  Once the admin level user authorises the clock in, the system will show the confirmation window along with printing out the Clock In Receipt.
Clocking out process has the same steps as clocking in. 
In the Last 5 Sign In/Out Record , the active shift of the logged in user will be highlighted in yellow.
Completing the clocking out process will also automatically show the confirmation window and print out the Clock Out receipt.